Delve deeper into the beauty of Holland, Belgium and Germany on a new river cruise itinerary sailing between Amsterdam and Cologne starting in May 2021.
With one of the most modern fleets in Europe, comprising 13 five-star cruisers built to the highest specifications, expect only the best from Riviera River Cruises.
Spacious accommodations similar to a superbly appointed boutique hotel, 83% of staterooms and suites featuring a full or French balcony, as well as including a small number of staterooms available for solo occupancy without a single supplement on each departure; fine European cuisine with no charge alternative dining options, and first-class service from an English speaking crew ready to tend to your every need.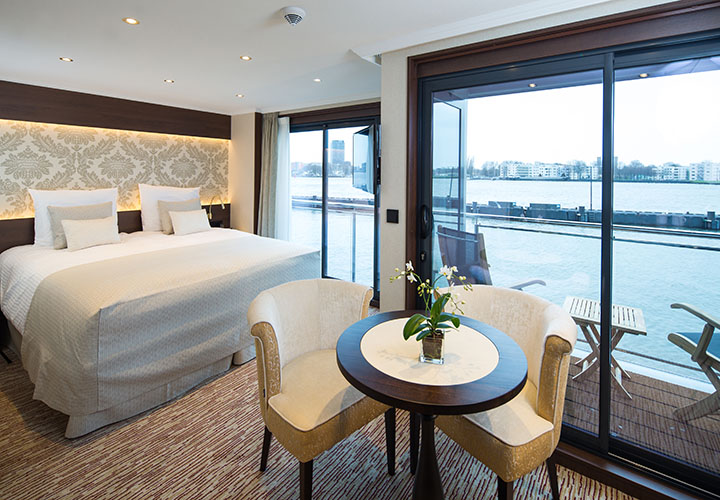 Enthusiastic expert guides bring Europe's most fascinating destinations to life so that you can come away with a greater appreciation of culture and history. From picturesque countryside to historic landmarks, visit the classic sights of Europe – many on Riviera's insightful guided tours, all conducted in English and also become acquainted with the lesser-known places that are often just as intriguing.
Riviera's river cruise vacations offer incredible value for money and include everything you need for an unforgettable experience: your choice of beautifully appointed staterooms and suites, all meals on board, guided tours in every port of call, complimentary bicycles, complimentary Wi-Fi throughout the ship, port charges and fuel surcharges. Riviera leaves gratuities and drinks up to the guests and promises never to add hidden surcharges or fees, or to artificially inflate or discount prices.
NEW for 2021!
Amsterdam, Cologne and the Best of Holland & Flanders
8 days Amsterdam to Cologne or reverse
May – October 2021 departures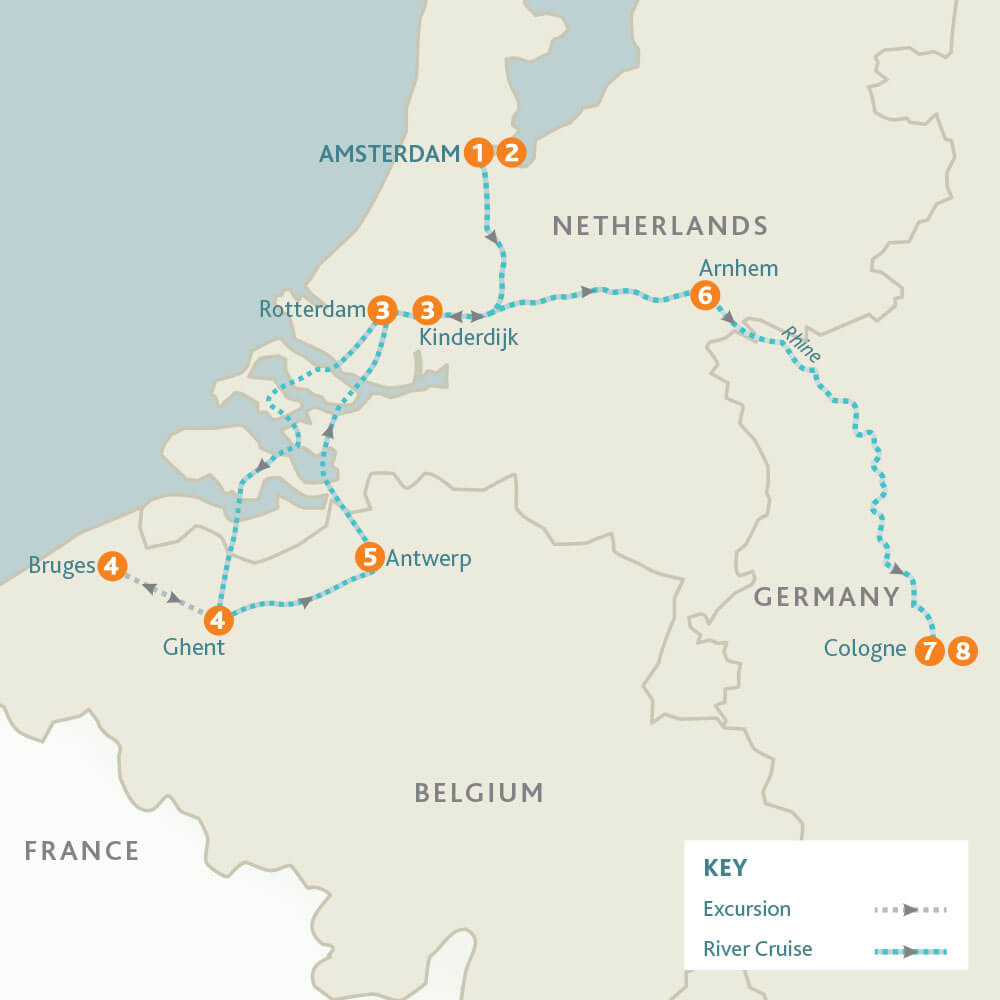 Wander the picture-perfect streets of medieval towns, gaze in awe at magnificent Gothic architecture, discover contemporary urban landscapes and the iconic windmills of a bygone era as you explore the rich and diverse cultural heritage of these three western European neighbours, inextricably linked by history and their fascinating waterways.
Literally meaning 'The Low Countries,' almost half of the Netherlands once lay underwater. Today, the country owes its existence to the conquest of water through astonishing feats of hydraulic engineering. With around half of the country still at or below sea level, the fertile, pancake-flat stretches of land known as polders are bisected by a network of drainage ditches and canals which control the water table beneath huge open skies – while miles of protective dunes protect the long coastline to the west and north. One of the most urbanized and densely populated nations on earth, almost 17 million people (on average the tallest in the world!) live in an area little more than half the size of Scotland. The towns and villages are often picture-perfect places of gabled townhouses, pretty canals, and church spires - each one often a profoundly separate place with its own distinct identity.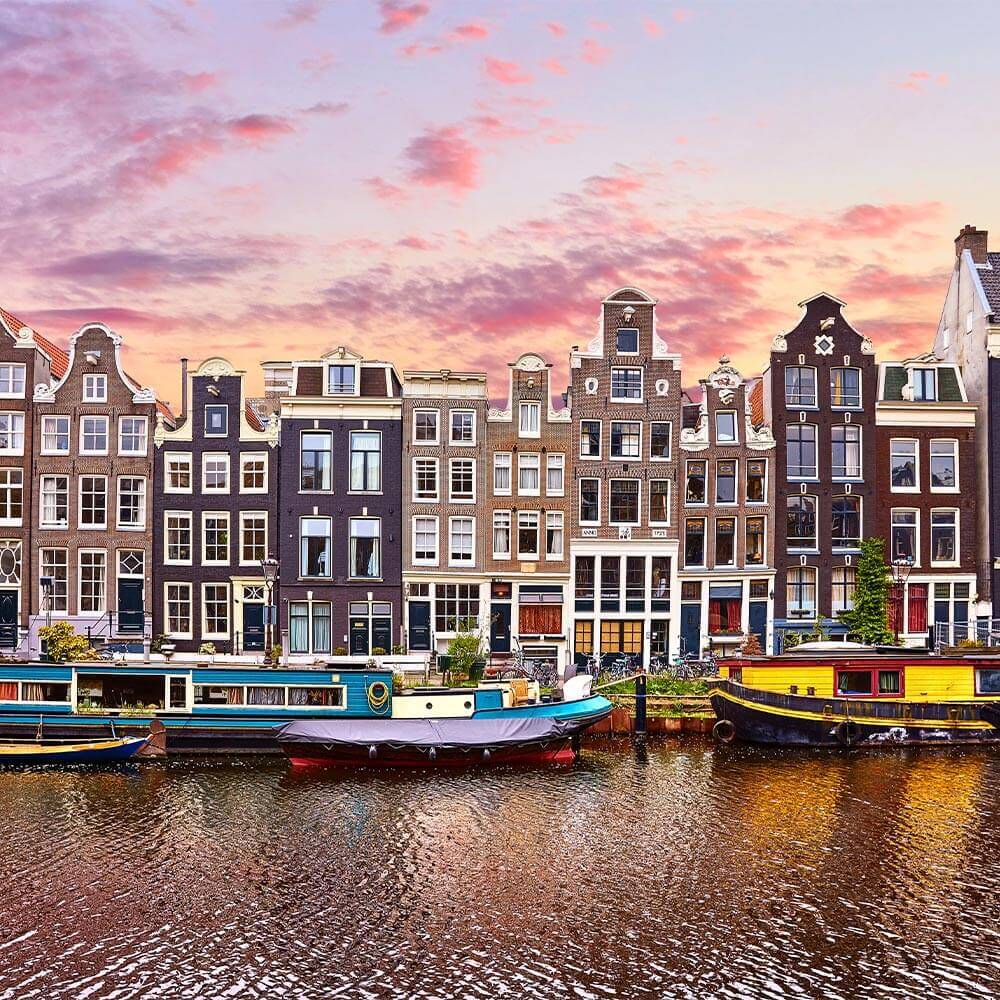 In spring and summer, the world-famous bulb fields turn into huge, bold vistas of colour. Originating from Turkey, tulips grow extremely well on Dutch soil and have become part of the national identity which is also tightly linked to Canada. Not only did the Dutch Princess Juliana and her family live in Ottawa during the Second World War (and had their 3rd child born here) but Canadians also played a significant role in the liberation of the Netherlands, an accomplishment for which the Dutch still remember us today. After the war, the Dutch Royal Family and the Dutch people expressed their thanks to Canada by sending thousands of tulip bulbs to our Capital and the gift of tulips became a yearly tradition still in place to this day.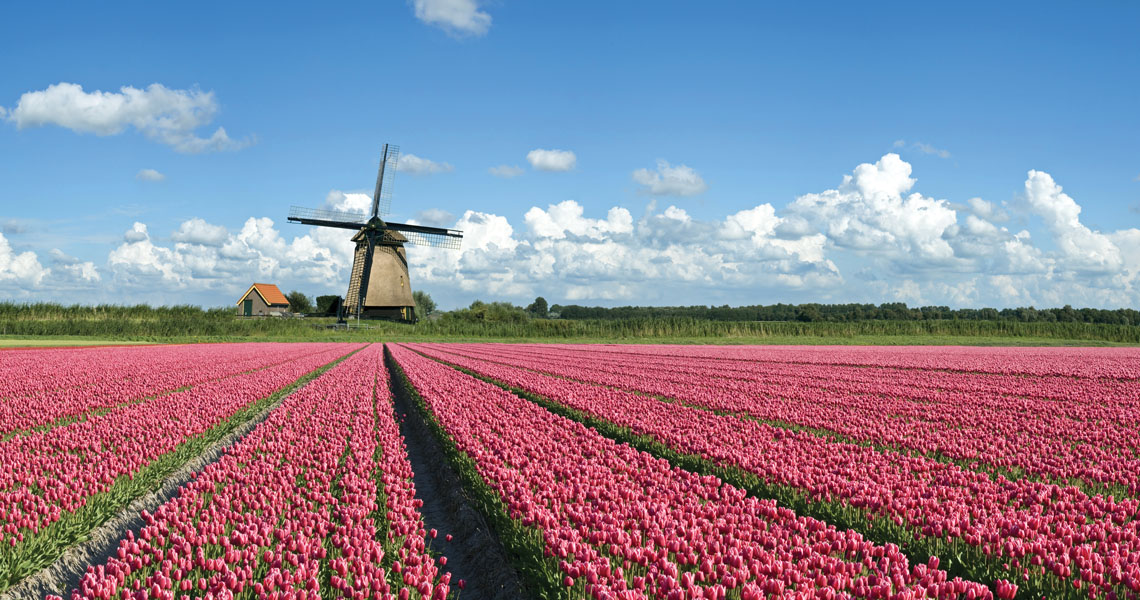 Sailing onto Flanders, the Flemish Region of Belgium is a Dutch-speaking area in the country's north, and one of three Belgian regions. During the late Middle Ages, Flanders' trading towns (notably Ghent, Bruges and Ypres) made it one of the richest and most urbanized parts of Europe, weaving the wool of neighbouring lands into cloth for both domestic use and export. Ghent is a medieval gem, once Western Europe's second largest city after Paris. Spared the ravages of the 20th century, you can stroll along its magnificently unspoilt waterfront, gazing upon the 13th-century skyline punctured by soaring belfries. The port city of Antwerp is a major diamond trade centre (with a centuries old Diamond District) and has a reputation for fashion design. Its Royal Museum of Fine Arts has a large collection of paintings by Flemish masters. And let's not forget the chocolate! The love story between this small country and the sweet delight has been thriving for generations. A visit to Chocolate Nation, the largest Belgian chocolate museum in the world, is a must for anyone with a sweet tooth or not…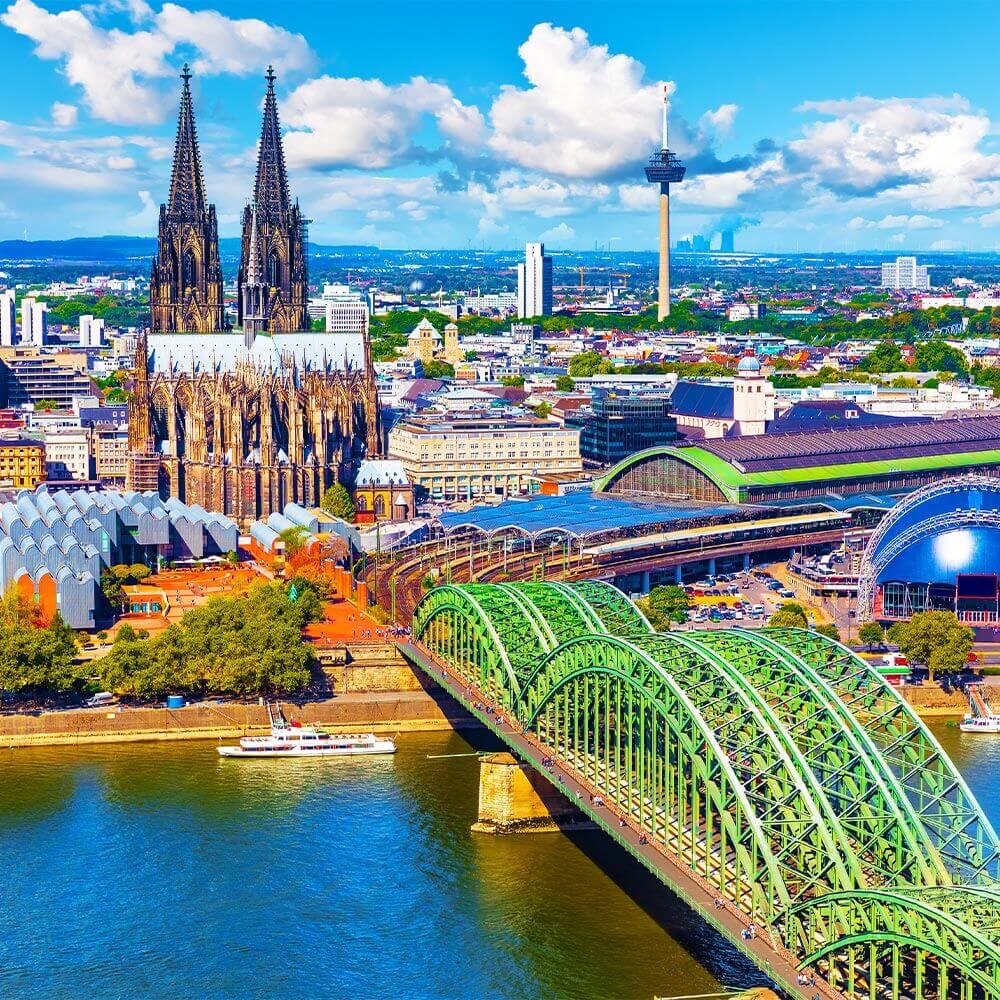 As you sail into Germany, you are entering one of the largest economies in the world (and the largest in Europe), a country with one of the highest standards of living as well as a top travel destination. The highlight of this trip is Cologne, the largest city on the Rhine. Cologne (or Köln in German) is famous for its 12 great Romanesque churches - especially the magnificent twin-spired Cathedral – a miraculous survivor of WWII bombing, with a gilded sarcophagus said to contain the remains of the three kings from the Nativity story and a UNESCO World Heritage Site. All an easy walk from the historic Old Town. The city's university is one of the oldest and largest in Europe and you'll never run out of things to see and do in Cologne.

You also have to try some local food, namely Himmel un Ääd (Heaven and Earth) - named for the two main ingredients, apples (from the sky) and potatoes (from the ground), this dish resembles mashed potatoes with a distinct apple flavour and sweetness. Try it with the traditional Schnitzel, Mettbrötchen (raw minced pork sandwich), Schweinshaxe aka Crispy Pork Knuckle or Leberwurst (liver sausage) accompanied by the Kölsch beer, a specialty beer only brewed in Cologne. Not to be missed!

Your Cruise Inclusions:
Seven nights on board in your choice of stateroom or suite category - all with river views
Guided tours of Cologne, Antwerp, Bruges, Ghent and Rotterdam
Visits to Kinderdijk, Airborne Museum or Het Loo Palace
Amsterdam canal cruise
All meals on board from dinner on your day of arrival through to breakfast on your day of departure
Welcome dinner and the Captain's Dinner
A packed lunch during a full day trip to Bruges
Five-star service from an English-speaking crew and knowledgeable local guides
Complimentary on-board tea, coffee and water
Complimentary on-board Wi-Fi
Services of a Riviera Travel cruise director and concierge
All port charges and taxes
Excited to go and don't want to wait till 2021?
Join one of Riviera's 2020 departure featuring Paris & Normandy this summer or fall, exploring the most romantic city in the world as well as the thought-provoking beaches and monuments along the Normandy coast, reflecting on the remarkable story of the D-Day.
8 days Paris Roundtrip
August 18 – October 27, 2020 departures
April 20 – October 12, 2021 departures
Cruise along the beautiful and majestic Seine into the heart of one of France's most historic and picturesque regions, Normandy. With time to enjoy the historic little town of Les Andelys en route, continue the journey along the Seine's sweeping meanders, before exploring the delights of Rouen, one of Europe's finest medieval cities with its stunning cathedral and tangle of atmospheric winding streets. Passing the legendary Jumiege Abbey, moor in the pretty village of Caudebec with time after dinner for an evening stroll in this most typical of French villages. Then to Bayeux, which retains its wealth of splendid buildings as well as the legendary and stunning tapestry for which it is famed. Visit the Gold Beach and the remnants of Mulberry Harbour. Your cruise would not be complete without a visit to charming Honfleur - its near perfect waterfront of tall pastel-coloured 18th century houses, traditional shops and maze of streets providing the inspiration for the Impressionist painter Claude Monet to paint here many times.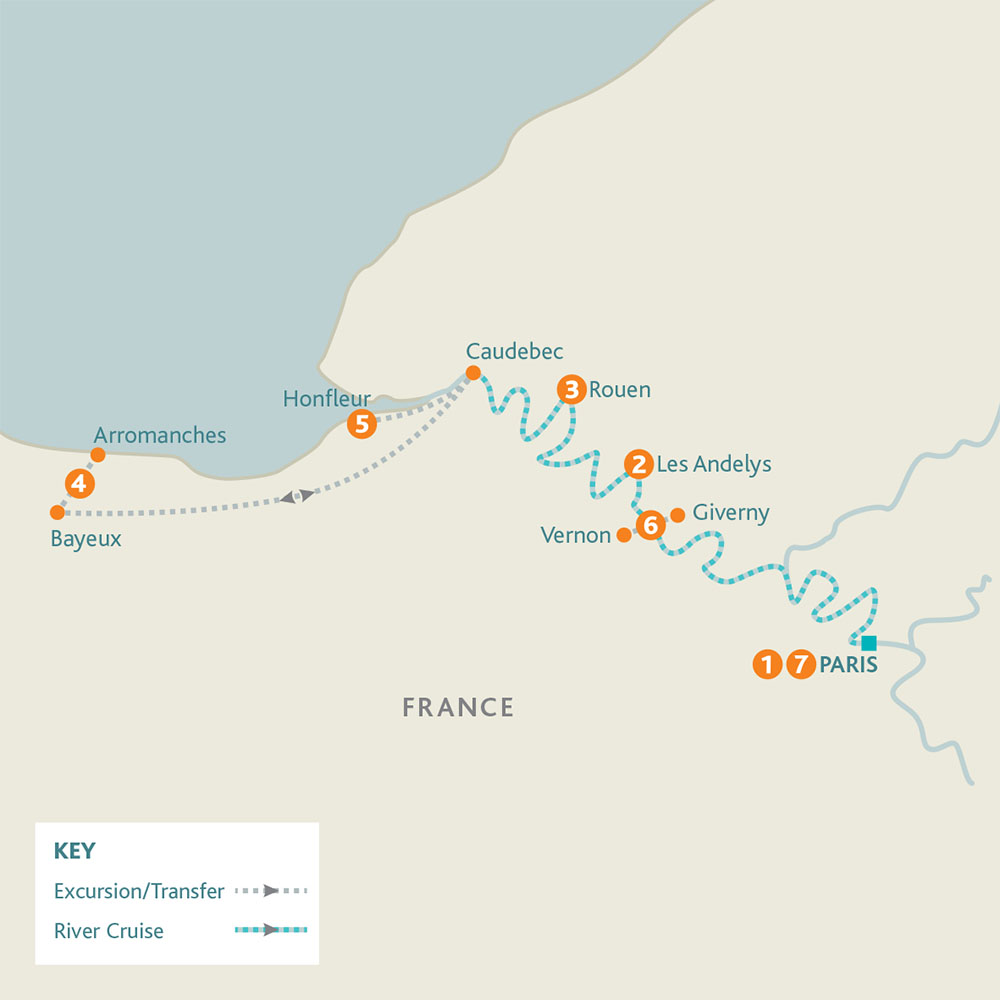 Countless sleepy villages silently drift by as you arrive in delightful Vernon, from where it's a short drive to Giverny, to visit Claude Monet's home and one of the world's most famous and most painted gardens. Enjoy the quintessentially half-timbered streets of Vernon before continuing on to your final destination, one of the world's most iconic and romantic cities, Paris. From Notre Dame to the Arc de Triomphe, the Sacre-Coeur to the Eiffel Tower, the Louvre to the Pompidou Centre, the smart shopping of the Galeries Lafayette to bohemian Montmartre, the list is endless and the variety arguably unmatchable; this breathtaking city never fails to inspire no matter how many times one visits.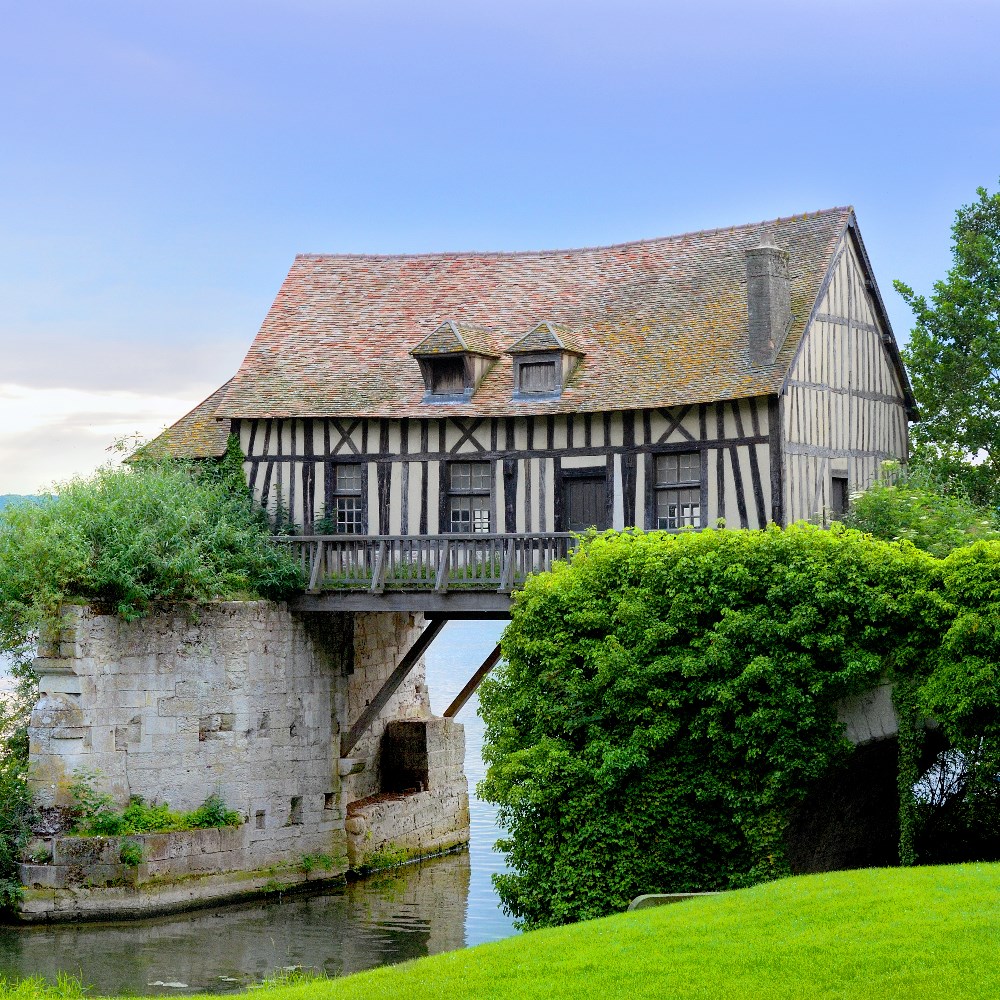 Don't Miss Riviera's Half Back Sale!
Confirm your stateroom with a half price deposit of US$400 and get it back as an onboard credit! Available on all ships and itineraries. Book by July 31st, 2020!
Contact your Travel Professional for details or visit www.rivierarivercruises.com/
Terms, conditions and restrictions apply; pricing, availability, and other details subject to change and/ or apply to US or Canadian residents. Please confirm details and booking information with your travel advisor.