Arriving in Frankfurt on time, under sunny blue skies and higher-than-normal temperatures, followed by a quick and very comfortable train journey to Cologne, made for an enjoyable start for our mid-October Rhine River cruise. Our ship embarkation was a breeze, one of the easiest we have ever experienced, followed by a delicious first dinner on board - then we were ready to sail. With one of the most modern fleets in Europe, Riviera River Cruises has 12 five-star cruisers built to the highest specifications. They entered the river cruise market 12 years ago and now offer 17 different itineraries on eight European waterways, including the majestic Rhine.
From the comfort of our first-class floating hotel, our river cruise transported us effortlessly through the most enchanting landscapes that change constantly from the gentle and rolling to the most dramatic. The twists and turns of the river are endlessly fascinating, and there is always something new to watch and admire on shore. One moment you're gliding past dense forests or towering hills crowned by ruins of many castles or watchtowers that once extracted tolls from passing mariners and merchants. Next, you pass steep vineyards where world-famous Riesling or Gewürztraminer wines are produced. And before you know it, there are pretty waterfronts of riverside towns, spectacular locks, and oxbow lakes - long deserted by the river flow - that form marvellous havens for birds.
Your cruise director and local tour guides share stories of myths and legends that surround you. The most famous is of the Lorelei maid (Loreley in German) who sat combing her golden hair on a 132-metre high steep slate rock, distracting sailors so much with her beauty and song that she caused them to crash on the rocks and drown. A popular destination stop on the 555th km of the river, in the Middle-Rhine River Gorge, marks the narrowest part of the river between Switzerland and the North Sea. But there's nothing quite like the anticipation of gliding up to the promenade of a river stop to take a first tantalizing glimpse of what lies ashore. The ships are usually berthed in the town centre, close to all its attractions. You'll discover classic wine villages and picturesque 16th-century old towns, explore their narrow cobbled streets and alleyways leading past crooked, half-timbered houses to quiet, intimate squares, dotted by boutiques, restaurants and cafés, offering delightful local fares.
On our 8-day Rhine, Strasbourg & Heidelberg cruise, we explored Bonn, the birthplace of Beethoven and the former capital of Western Germany; Koblenz, one of Germany's oldest cities founded by the Romans and located at the confluence of the Rhine and Moselle rivers (for which it's named for); followed by Boppard, a winegrowing centre of the region and home of the Vierseenblick and the "Four-Lake View," a look-out over this bow in the Rhine which can be reached by chairlift. Onto Mainz, Germany's wine capital and home of Johannes Gutenberg, inventor of the movable type printing press and the Gutenberg Bibles. In Heidelberg, Germany's oldest and most famous university town, we climbed high using the electric funicular to the Königstuhl (King's seat), offering impressive views of the Neckar Valley and Rhine lowlands.
The following day we arrived in France and explored delightful Strasbourg, the capital of the Alsace region. The city's rich architectural heritage embraces styles from the Medieval, Renaissance, Romantic and Art Nouveau eras. The old town is a maze of narrow streets and alleys that invite you to wander and look up at the rooflines and steeples. The reflections of half-timbered houses with sloping roofs are reminiscent of those seen in fairytales. We could not resist the local wine and the specialty, Tarte flambée (much like pizza), made with a thin flatbread-like crust and covered with various toppings. Strasbourg is a stone's throw from the Route des Vins, the Alsatian Wine Trail, known for producing excellent Gewürztraminer, Pinot Noir and Riesling wines. If you prefer sparkling, sample the local Crème d'Alsace, which is wonderful. Worried about the extra calories or just looking for a thrilling experience? Climb to the top of the Cathédrale Notre-Dame de Strasbourg, to a platform at the height of 66 metres (332 steps) for the best views of Strasbourg. You won't be disappointed.

From Strasbourg, we travelled by coach to Colmar, along the famous Wine Route, enjoying the beautiful landscape dotted with picturesque villages, and vineyards, with the Black Forest on one side and Vosges, a low mountain range, on the other. The medieval town of Colmar is often called small Strasbourg with its similarly colourful homes and winding canals. It proudly displays its mixture of French and German cultures, influencing the town's architecture, culture, food and drink.

Next, we sailed to Rüdesheim, a favourite stop, a Riesling-making town with numerous wine shops, wine bars, restaurants and cafés to relax in. We enjoyed a fun visit to Siegfried's Mechanical Music Cabinet, a museum of 350 self-playing musical instruments, as well as an open cable car ride from the town centre to the 38-metres high Niederwald monument with its huge Germania figure, erected in 1871 to commemorate the unification of Germany by Kaiser Wilhelm I. Hover above the vines below and enjoy spectacular views of the river and the vineyards all around you. Not to be missed is the popular Rüdesheimer Kaffee, where hot coffee is made sweet and strong with sugar dissolved in a delicious Asbach brandy, then topped with sweetened whipped cream and served in a special cup. Yum!
As all things must end, we were back in Cologne, enjoying our last day on board in this 2,000-year-old city and its most visited attractions, including the 8,000 square metres Gothic Cathedral. We explored the Old Town and its quaint streets, historic houses, museums, churches, and even the busy Schildergasse, the main shopping street. When you visit, do not miss the Rheinauhafen waterfront complex located right on the river, not far from the city centre, full of cafés, restaurants and galleries for visitors to enjoy.
Engaging and informative excursions led by local English-speaking guides were included in each port of call. These small group tours are easy to follow, and you won't miss out on any important information even if you stop to take pictures along the way, as the group is connected to the guide through audio devices with earpieces provided for the duration of your cruise. Guided tours usually take an hour to an hour and a half, followed by free time to enjoy what you like the most.
Our floating luxury boutique hotel, Riviera's newest addition to their fleet, MS Geoffrey Chaucer, features fine dining with meals prepared by professional chefs and served by attentive staff. Breakfast is served buffet style with additional options cooked to order, such as omelets or poached eggs. Lunch starts with a buffet-style salad bar with an à la carte soup and main course, followed by a buffet-style dessert and cheese table. Dinner is always served à la carte with at least three options for your main course, plus a vegetarian option and chef's suggestions, often featuring local cuisine. There is also an alternative dining option called the Riverview Kitchen, offering lunch and dinner with casual fare for guests to enjoy.
Evening entertainment consisted of music by the ship's onboard musician, who entertained us by playing the piano, saxophone and singing. On two evenings, the ship brought on local entertainers for shows in the lounge, with guests enthusiastically singing and dancing.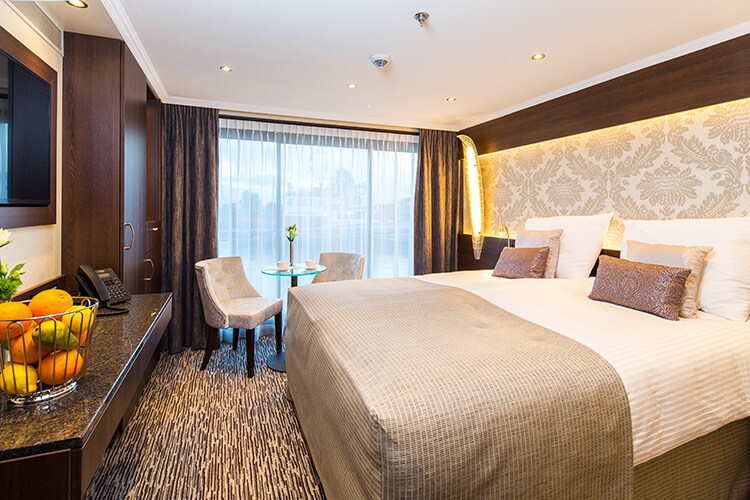 The ship hosts a maximum of 170 mostly British guests, with a few North American guests mixed in, all having a wonderful time together, whether ashore, during meals or over a drink (or two) before or after dinner. The ship's captain, officers, hotel manager and cruise director were mainly European, while the restaurant and bar staff were Southeast Asian and Filipino, similar to many ocean-going ships.
Your Riviera River Cruise Inclusions:
All meals on board from dinner on your day of arrival through to breakfast on your day of departure
Welcome dinner and the Captain's Dinner with a welcome and farewell cocktail party
Five-star service from an English-speaking crew and knowledgeable local guides
Guided walking tours in all ports of call
Complimentary on-board tea, coffee and water from self-dispensing machine in the lobby area
Complimentary on-board Wi-Fi
Bicycles and helmets available for use in port
Services of a Riviera Travel cruise director and travel concierge
All port charges and taxes
Riviera leaves gratuities and drinks up to the guests and promises never to add hidden surcharges or service fees.
Riviera's Rhine River cruises run from April to October and return in December with delightful Christmas Market cruises.
Contact your Travel Professional or visit Riviera River Cruises for details.
Terms, conditions and restrictions apply; pricing, availability, and other details subject to change and/ or apply to US or Canadian residents. Please confirm details and booking information with your travel advisor.