Small ship cruising with Scenic offers unrivalled exploration and sets the benchmark in discovery voyages to the world's most remote and undiscovered destinations. The sleek design of Scenic's fleet of Discovery Yachts, allows for unparalleled access to some of the world's most remote regions. With just 228 guests (200 guests in Polar regions) and a 1:1 staff-to-guest ratio, a journey on board a Scenic Discovery Yacht ensures an extraordinary level of personalized service. More than 38 chefs, from 15 different countries, make up a world-class culinary team, creating exquisite cuisine for guests at up to 10 different dining venues, ranging from relaxed cafés to contemporary French restaurants and private small party 11-course meal dégustations, with new menus created each day to take you on a culinary journey inspired by your destination. There are also 9 spacious bars and lounges, an indulgent 5,920 square foot Senses Spa, gym, Yoga and Pilates studio and a dedicated Observation Lounge and Terrace on the top deck offering sweeping views for guests to enjoy.
All Scenic voyages are truly all-inclusive, including return flights, transfers, the finest selection of unlimited premium branded beverages, with a choice of over 100 whiskeys from around the world, spacious all-suite verandah accommodation with luxurious amenities you would expect from a 6-star hotel, complimentary mini-bar re-stocked daily and professional butler service for all guests, complimentary Wi-Fi, all tipping on board and onshore, once-in-a-lifetime immersive excursions including a full kayak and stand-up paddleboarding program, e-bikes, a range of water sporting activities and exclusive Scenic Enrich experiences, unique and exclusively handcrafted encounters.
The up-to 20-member specialist Discovery Team, the finest professionals in their field, educates guests, provides expert lectures and guidance, and ensures a safe journey every step of the way. Join them for onboard education sessions in the state-of-the-art theatre, guided nature walks for prime wildlife viewing by helicopter and Zodiac excursions past majestic fjords, glaciers and spectacular landscapes.
Scenic Eclipse II – identical in design, and with all the innovative, world class features of her sister ship – will join Scenic Eclipse in the Antarctic region in 2023, doubling the brand's capacity so that even more guests can enjoy this incredible and timeless destination and luxury experiences Scenic provides there.
The yachts are both equipped with two state-of-the-art Airbus H130-T2 helicopters, one of the quietest in the skies, featuring an air-conditioned interior and Bose noise cancelling headsets for each guest. Scenic's Helicopter Experiences include Helicopter Flightseeing, Helicopter Skiing, Helicopter Landings, Helicopter Golf and Gastronomic Helicopter Dining Experiences, each creating a new unforgettable memory and unrivalled viewing of stunning landscapes.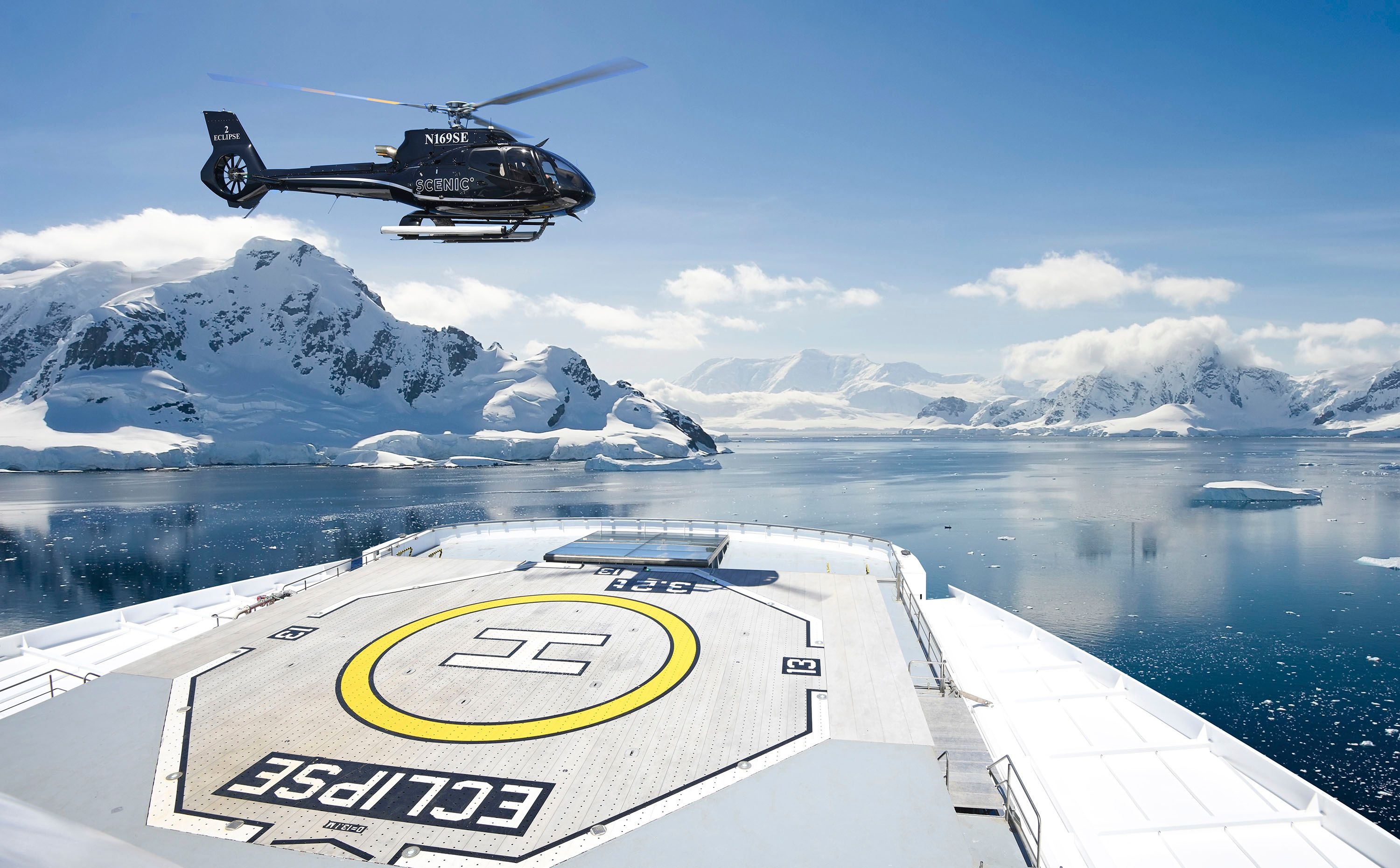 For the ultimate in ultra-luxury exploration, board Scenic's custom-designed Triton 660/9 AVA submarine capable of submerging up to 656 feet below the ocean's surface. Take your seat alongside up to eight guests and prepare for unrivalled marine life views, thanks to large ultra-clear acrylic spheres surrounding you.
With the introduction of Scenic Eclipse II, guests will be able to reach further than ever before as Scenic's new season features 85 voyages to all four corners of the globe, including brand-new destinations such as Indonesia, Polynesia, the Pacific Islands, Australia, the Caribbean and Scotland, this in addition to several new itineraries in the Polar regions, Mediterranean and the Americas, marking Scenic's largest-ever collection of ultra-luxury ocean voyages.
Highlights of new itineraries for 2023/24 include:
Antarctica Insights: Fly and Cruise
Scenic Discovery Yachts' customized design provides a smooth journey on their unique voyage across the Drake Passage. The yachts feature state-of-the-art technology including customized stabilisers, 50% larger than other ships, to provide a safe and comfortable sailing. Alternatively, and new for the 2023/24 Antarctica season, is the option to fly in either one or both directions – perfect for those with limited vacation time or who are just too excited and want to arrive in Antarctica swiftly. The nine- or 10-day journey begins (or ends) in Punta Arenas (Chile) with a two-hour flight to/from King George Island. Once in Antarctica, you will join one of the Discovery Yachts and begin your exploration of the Antarctic Peninsula and its maze of protected channels, with expert assistance from Scenic's dedicated Discovery Team. You can glide in a kayak or stand-up paddleboard on pristine, icy water, taking in the vast and awe-inspiring expanse of blue, and experiencing the peacefulness of the frozen continent where penguins and seals thrive in their natural habitat.
Discover the Kimberley Coastline
As Scenic returns to its origins (it is an Australian-founded company), this 11-day voyage from Darwin to Broome offers you an exploration of one of the world's most remarkable and precious environments - the vast wilderness of Australia's Kimberley Coast. The plethora of sights range from vivid, contrasting colours and vast pristine wilderness to deep gorges to rainforests to cascading waterfalls. Always looking to involve local experiences, traditional owners of the land instruct you about the region's heritage and folklore.
With this voyage, Scenic, in its never-ending desire to provide unique and memorable trips to its guests, ventures where only the most intrepid explorers have gone before - the Russian High Arctic and Novaya Zemlya. This 18-day exploration introduces you to isolated isles and ice-fringed waters, dazzling wildlife and intriguing histories. You will be surrounded by extraordinary wildlife – including polar bears, whales, walruses and seabird colonies – and experience a pristine wilderness reached by very few before you.
Additional new itineraries for Scenic's 2023/24 season include:
Scenic is currently offering savings of up to 20 per cent per person on 2023/24 voyages when booked and paid in full 12 months prior to departure.
Additional information on these and other cruises, brochures and reservations can be obtained from your travel advisors or at www.scenic.ca

Flights on board Scenic's two helicopters, helicopter experiences and submarines are at additional cost, subject to regulatory approval, availability, weight restrictions, medical approval and weather and ice conditions. Helicopters are unable to operate in South Georgia, Svalbard and Russia. Submarine is unable to operate in US waters and Svalbard.
Terms, conditions and restrictions apply; pricing, availability, and other details subject to change and/ or apply to US or Canadian residents. Please confirm details and booking information with your travel advisor.