We hoisted anchor in late September, departing Lisbon for a 10-day cruise of Spain and Portugal, culminating in Barcelona. The atmosphere onboard was light and breezy, and it was apparent how important it was for both crew and guests to meet up again. It had been a long, dry period of 18 months, and we were all more than ready to set sail for new adventures.
The small motor yacht has emerged from an extensive and impressive drydock, dubbed The Star Plus Initiative – a virtual transformation, with 50 brand-new suites tucked in the vessel's middle, two restaurants making their debut, plus all-new bathrooms and carpeting for every suite. The ship was literally cut in half, and a whole new section of lovely suites, along with an elevator, expansive indoor and outdoor decks, a redesigned, elevated pool and hot tub and more, were added to the ship. As were the aforementioned new restaurants, Cuadro 44 by famed American Chef Anthony Sasso and The Star Grill by award-winning grilling guru Steven Raichlen who was onboard to fire up the bbq personally and kick things off with a blast!
I had previously sailed the Legend, and sister ships, Star Breeze and Star Pride, so I was familiar with the layout. The Pride emerges from her transformational drydock early next year, and the Breeze was the first to return to service a few months ago, also with 50 new suites and the same upgrades. The Star Legend is now longer and even more gorgeous, replete with fresh paint, polished wood, gleaming brass and attractive fixtures and fittings. It's more than just a paint job though, she can now accommodate another 100 guests – with a capacity of 312. All accommodations are spacious suites, most coming in at just under 300 sq ft. Some have windows, ours with a Juliet balcony, and a few expansive Owners suites offer more overall room and spacious balconies. The new suites have the bed by the window or balcony, whereas the bed is closer to the bathroom in the original suites. Which also have a tub rather than just a shower. The new rooms also have loads of electrical outlets for both European and US plugs and charging ports. A mini-fridge, which, if you have the beverage package, will be filled and replenished as required.
Being a long-time fan (since my Tahiti cruise in 1996), I always find that one of the most desirable elements of Windstar is the interaction between guests and crew. It can often make or break the experience on any ship, so with that in mind, when I board a Windstar sail or motor yacht, I know I will become – yet again – a part of the Windstar family. On our cruise, from a complement of just 121, we had many repeat guests - even one vibrant couple in their 80's sailing for 38 days on a series of back-to-back-to-back cruises. We met up with some newbies, most of whom had cruised before but wanted "something Smaller", and who signed up for a future cruise during this sailing.
The crew numbered 204, and to a fault, they were endearing, engaging, sweet, kind and thrilled to be back on a ship caring for their guests. The feeling was palpable, and, as a consequence, they were tripping over each other to spend time with us and could not do enough. It was really very good for a first cruise (and after 18 months), and no doubt things will be humming and running very smoothly soon.
Some of the highlights for me were the expanded indoor and outdoor deck space and the terrific new pool, which was well used and positioned perfectly on Deck 7. The food was mostly very good throughout the ship and in every dining venue. The addition of the intimate, small plate Spanish restaurant, Cuadro 44, with its Michelin-starred Chef Anthony Sasso is another close tie to Windstar's relationship with the James Beard Foundation. This is an enjoyable culinary association and one which makes a great deal of sense. Dishes from the array of James Beard Chefs appear nightly at Amphora, the main restaurant. This spot is in the new section and, with its elegant décor and muted colours, was a frequent choice for dinner.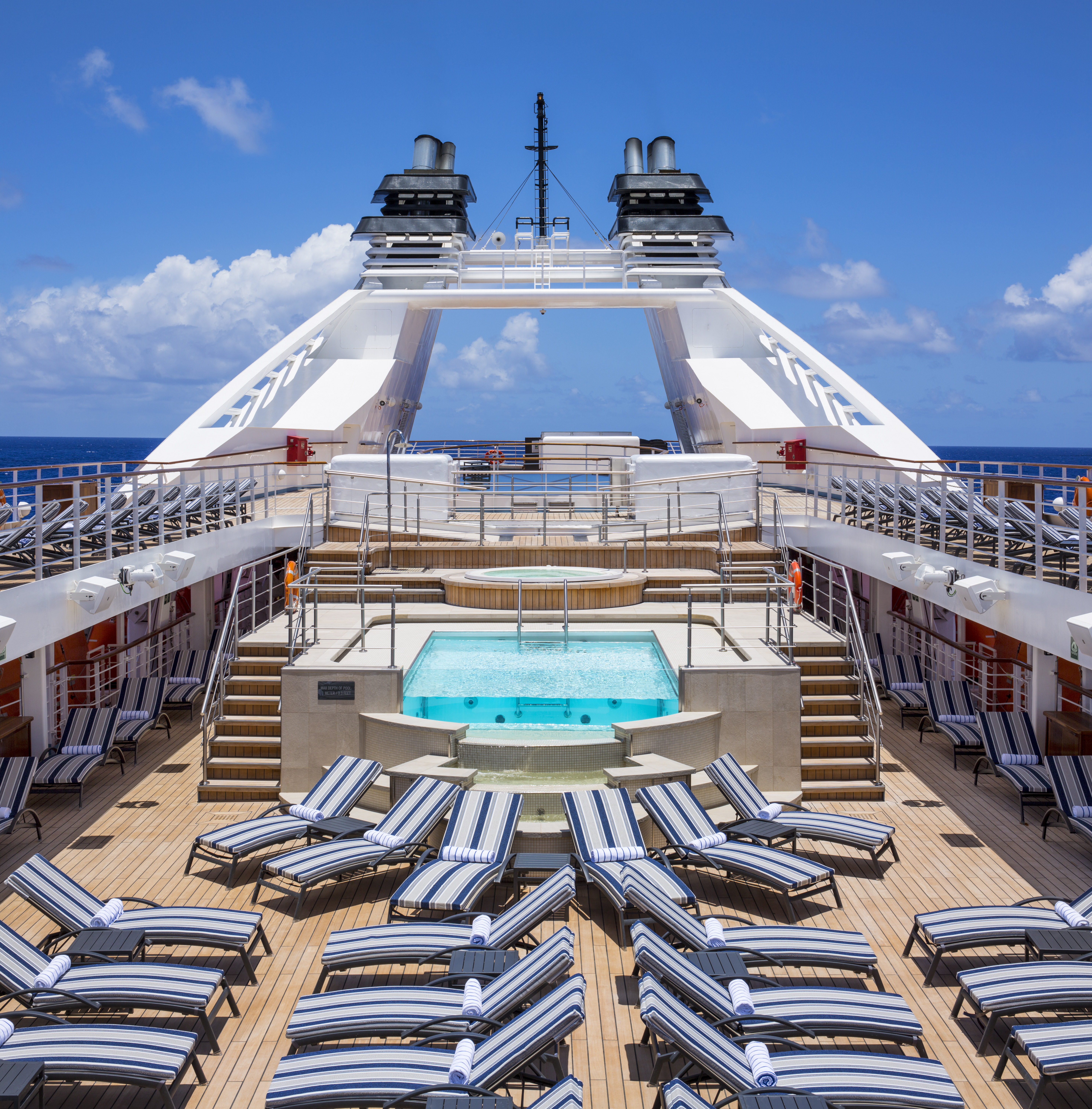 However, when you're in the Med with balmy and warm weather, one of my favourite spots is the Veranda outside on Deck 7 aft, which becomes Candles in the evening. Partaking of a buffet lunch (staff serve everything to you these days), while sipping a glass or two of rosé is a treat. At night, the smallish Candles menu, consisting primarily of steaks and seafood and some salads and sides, is popular and by reservation only. And the dress is casual at all times, so gentlemen wear a shirt with a collar and sleeves and long pants at dinner and otherwise, whatever pleases you as long as it is in good taste!
And now to the Star Grill, on Deck 8 located around the Star Bar with both table and casual couch seating. It's open for lunch every day, sometimes at night and occasionally will offer some grilled items in the middle of the afternoon. Steven Raichlen, the Barbecue expert, has created a variety of menu items for Windstar which are tasty and enjoyable – this is a great space for relaxing, enjoying a cocktail and a light bite.
Windstar is doing a great job and has elevated the onboard experience with plans for further upgrades and changes – including a new room service breakfast menu. I also love that you can upgrade your cruise to be an all-inclusive one for $79 US pppd. This gives unlimited Wi-Fi, included gratuities (which are $14.50 pppd) and beverages, including wines by the glass from an exceptional list of 33 vintages, beer and cocktails. It's worth the price.
Want to see what the onboard spaces and facilities look like? Watch the yachts' transformation video.

Check out Windstar's world-wide cruise destinations or Contact Your Travel Professional for details.

Terms, conditions and restrictions apply; pricing, availability, and other details subject to change and/ or apply to US or Canadian residents. Please confirm details and booking information with your travel advisor.