Graham McTavish, known for his roles in popular TV series such as the Outlander, The Witcher, House of the Dragon, the Hobbit, Men in Kilts: A Road Trip with Sam and Graham, as well as his and Sam's book Clanlands: Whiskey, Warfare and a Scottish Adventure Like No Other, will be following in the footsteps of three sold out storyteller departures hosted by Outlander's best-selling author, Diana Gabaldon. Graham is currently the face of Avalon's "Cruising. Elevated" advertising campaign and has been acting as the unofficial spokesperson for Avalon Waterways. His promo ads and videos have received a lot of attention from viewers, many of them asking for Graham to host his very own Storyteller cruise, which would provide his fans with a once-in-a-lifetime opportunity to spend a week with their favourite actor while enjoying a cruise through picturesque destinations. We know this highly anticipated cruise departure will be a big hit. Avalon's previous successful storytelling departures included authors Cheryl Strayed, Candace Bushnell, Gillian Flynn and Christopher Moore, as well as the rock band Sister Hazel.
October 12 - 19, 2024

Kiltn' It: Facts, Fiction & Fairytale
8 days from Basel (Switzerland) to Amsterdam (the Netherlands) aboard Avalon Vista

Rivers have shaped our destiny since the dawn of time. Civilizations have been built around them and as humans, we are highly drawn to them. Avalon's 8-day Active & Discovery on the Rhine itinerary will transport you through the picturesque landscapes of Switzerland, France, Germany and the Netherlands, along quaint, cobblestone villages, through historically important cities and under the storied medieval castles sitting high up above the banks of the Rhine River – a setting where every hour is a story hour. From special meet-and-greets to intimate lectures and performances, Avalon's Storyteller cruises deliver scenic ports and riveting plots from history in legendary settings with insider stories from artistic legends, such as Graham McTavish, one of whose passion is history and sharing it with his audience.
When sailing with Avalon, you have a choice of included Classic sightseeing with city walking tours, visits to castles and cathedrals, Active excursions such as guided e-bike tours, hikes, or kayak excursions, or Discovery activities in culture and cuisine including culinary excursions, traditional butter or wine making (and tasting!) demonstrations, or painting classes to name just a few. So whether you're a history buff, a foodie, or an art lover, you'll find the Avalon Choice® inclusions that speak to you. In Breisach, explore German winemaking and the beautiful Black Forest, while in Strasbourg, visit the Grand Cathedral and Le Petit France, before sitting down to Alsatian cuisine. In Mainz, take an excursion to Heidelberg, visit the world's biggest wine barrel and be treated like royalty during an exclusive private reception at Rheinstein Castle. In Koblenz, take a cable-car ride up to Ehrenbreitstein Fortress for magnificent views of the surrounding area and the German Corner (Deutsches Eck), where the Moselle river joins the Rhine. It is known for a monumental equestrian statue of William I, first German Emperor, erected in 1897 in appreciation of his role in the unification of Germany. Enjoy a remarkable classical music concert in a lovely baroque venue at Engers Castle, home to Villa Musica, one of Germany's largest music institutions. Take a guided culinary walk in Düsseldorf, visit the Old Town and discover its spectacular subway line, where each station has an individual magic character. Take a guided tour to several microbreweries to try a variety of Altbiers before returning back to the ship.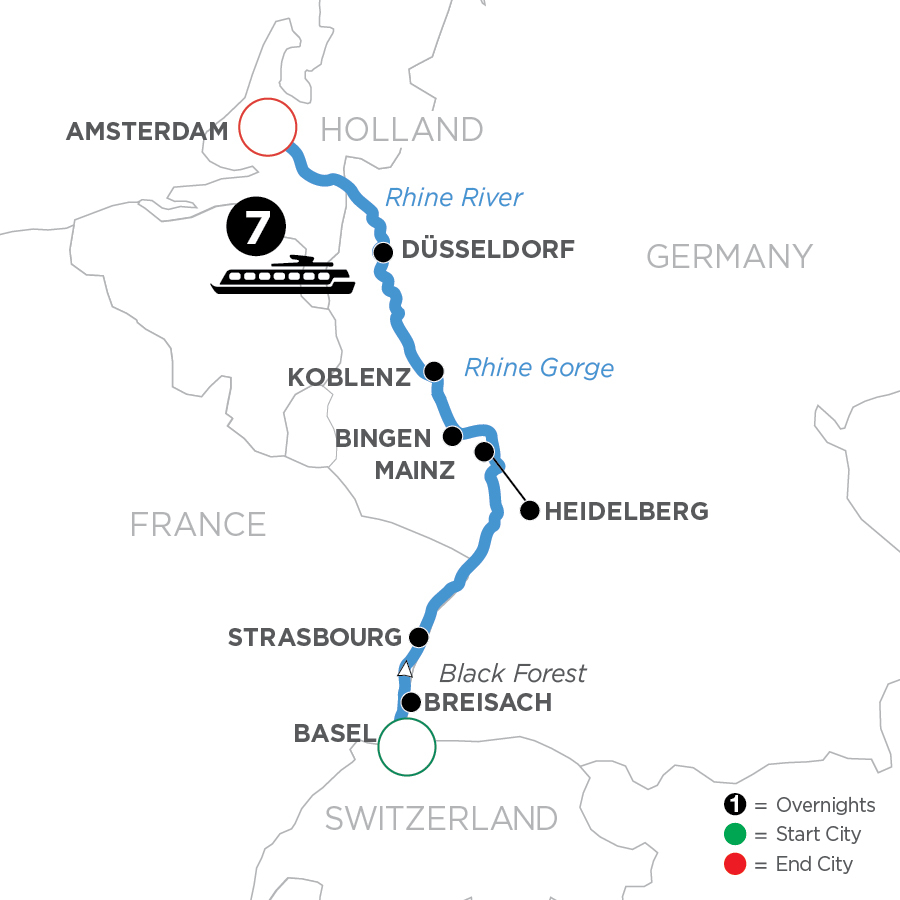 Your cruise ends in Amsterdam with a day full of activities. Enjoy a leisurely biking tour or a guided kayak tour through the canals of "Venice of the North". Attend a paining class and discover your inner artist, or enjoy a guided canal cruise to explore the iconic waterways and sites of this famous city full of colourful streets. Spend free time strolling through the galleries or consider an optional Culinary Walk in one of Amsterdam's famous districts. The choice is always yours and there are plenty of options to choose from.
Sail aboard Avalon's award-winning Suite Ship®, Avalon Vista, featuring two full decks of 200 square-foot Panorama Suites with wall-to-wall, floor-to-ceiling windows and open-air balconies (11-feet wide), wider than any other balconies, to invite the outside-in. Onboard amenities include a Fitness Center, complimentary computer use in public areas with Wi-Fi access, and a spacious Sky Deck with premium lounge chairs, shade system, whirlpool, as well as the delightful Sky Bistro.
One of the highlights of any vacation is the dining experience. Avalon offers fresh, organic and local fare, served in several onboard venues, from the four-course dinner in the Panorama Dining Room, to casual light lunch or nightly tapas in the casual Panorama Bistro, to fresh fare in the Sky Grill, to Room Service, Breakfast in Bed and even an al fresco picnic basket to go. So whether you are an early bird, a late night owl, or an afternoon tea drinker, Avalon has the foods you love at the time and setting you want them in.

Your Avalon Cruise Onboard Experience:
Complimentary Wi-Fi
Panoramic windows
Elegant, contemporary design & décor
Friendly, English-speaking crew & Cruise Director
Sky Deck with whirlpool, shade awnings, game area and premium lounges
Covered Observation Lounge
Club Lounge with 24-hour self-serve beverage station with complimentary cappuccinos, lattes, tea, hot chocolate & premium coffees, as well as treats throughout the day
Avalon Waterways is part of the Globus family of brands together with Globus Journeys and Cosmos Vacations. What began in 1928, nearly a century ago, as a rowboat ride across Switzerland's Lake Lugano has rippled into a robust portfolio of independent, touring and cruising vacations across 70 countries, creating a 95-year history of life-enhancing journeys across the globe. In 2004, the company launched Avalon Waterways, elevating the cruising experience with a plethora of industry transformations, including beds facing the views, creative, healthy dishes and FlexDining to name just a few. In addition, on all vacations, the Globus family of brands provides guests access to GO Apps (AvalonGO, GlobusGO, CosmosGO) featuring daily itinerary insights, GPS-enabled maps, stories behind the sites (all without using internet data) to enhance their vacation.
Terms, conditions and restrictions apply; pricing, availability, and other details subject to change and/ or apply to US or Canadian residents. Please confirm details and booking information with your travel advisor.