MSC Cruises takes parents and children to over 200 exciting destinations around the world, including their exclusive private island Ocean Cay MSC Marine Reserve in the Bahamas. Experience the beauty of the Caribbean, the Mediterranean and Northern Europe, Asia, South Africa, South America, the United States and Canada, and the magic of Dubai, Abu Dhabi, Qatar or Saudi Arabia. All featuring outstanding family programs on board and age appropriate activities ashore.
Depending on your family size, MSC Cruises offers many accommodation styles, from spacious suites to clusters of connecting staterooms, all providing superior comfort, bathrooms with tubs and/or showers, air conditioning, spacious wardrobes, and well-stocked mini bars. If you are looking for an elevated cruise experience, select one of the MSC Yacht Club accommodation options, featuring spacious suites, dedicated lounge and restaurant, private pool and sun deck facilities, complimentary access to the Thermals Suite in the MSC Aurea Spa, premium drinks and internet packages, 24-hour concierge and butler service available to MSC Yacht Club guests only.
Whichever ship or cruise you choose, your family will enjoy a culinary voyage of discovery, with an array of international dishes and ethnic specialties with flavours from around the world. And if your kids want to eat with their new found friends, MSC Cruises' staff are happy to look after them while you are savouring a romantic dinner for two.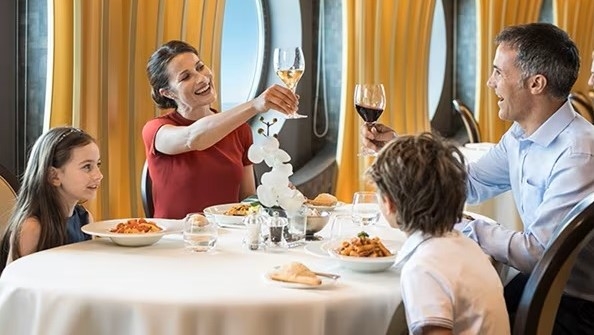 There is always so much to do on board, your kids will never be bored. From the joys of relaxing in a pool or splashing around in an aqua park, to the thrill of riding a swirling waterslide, family fun in the sun is never far away. Some ships even offer the extra adrenaline rush of sliding down a zip-line, driving a full-size Formula 1 simulator, or enjoying a fully immersive VR experience. Find a wide range of activities in the five dedicated Kids Clubs, participate in sports tournaments, quizzes and the special Doremi family disco. Take your kids to a Broadway-style theatre show, spend time at the LEGO Experience On Board, an entire day dedicated to fun LEGO activities for the whole family to enjoy.
From Baby Clubs, Babycare Services and even Baby Laundry Services, MSC Cruises has thought about mum and dad's vacation time and enjoyment too. The brand has dedicated, qualified multilingual staff, certified to look after your children and let them play, ensuring everyone is happy.
Baby Club (0-3 years old):You can leave your toddlers with MSC Babycare staff, or stay with them and enjoy the special Chicco toys and games. They'll love the music and rhythm activities, designed to awaken their curiosity.
Mini Club (3-6 years old): The club offers games, events and activities like Arts & Crafts, as well as stimulating LEGO toys to free their imagination and make every day special.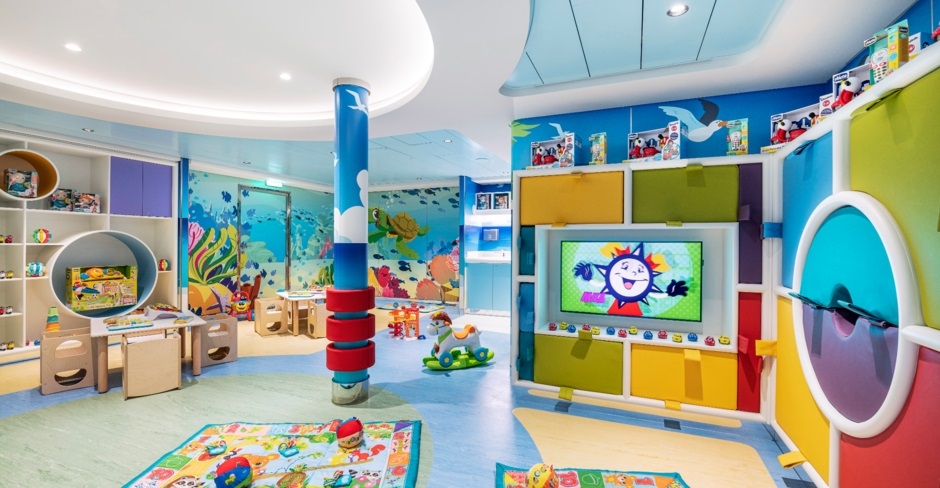 Junior Club (7-11 years old): Highlights range from Masterchef at Sea Juniors and Dorebro Sport competitions to MSC's Fire & Ice live video game.
Young Club (12-14 years old): Each day holds the promise of new experiences, with a dedicated programme of sport tournaments, hi-tech games and lots of other fun activities. And of course, every day also brings opportunities to make new friends.
Teen Club (15-17 years old): Your teenagers will have the time of their lives with Teen Club activities ranging from sports and competitions, dance contests and social network games to Wii, Xbox and PS4 tournaments. Teen disco, the Karaoke, Flash mobs and other themed events highlight every day on board.
Your kids can even live the cruise experience before you board! Watch the web series Cabin 12006 on the MSC Cruises official YouTube channel. Follow teenager Marcus as his first cruise turns into an unexpected adventure. Another great show is Kelly & Kloe Onboard, a web series of two young girls, who spend time on board MSC Cruises ship alongside their father, the Master. Kids can learn the theme song and dance routine, take part in a selfie contest dressed up as characters from the story, as well as have the chance to get creative by writing their very own episode.
Book your family cruise today and start having fun with MSC Cruises.
Terms, conditions and restrictions apply; pricing, availability, and other details subject to change and/ or apply to US or Canadian residents. Please confirm details and booking information with your travel advisor.