I TRAVELLED TO this secluded Mexican resort for a week of sunshine and yoga but came home with much more than a suntan and limber limbs. A visit to Mar de Jade is a life-renewing experience, and an opportunity to see goodness in action. My travelling companions, a small group of women who had been going there for years with their yoga teacher, knew what to expect and were thrilled to be returning after missing two pandemic years.
Mar de Jade (Sea of Jade) nestles on a mile-long sweep of beach at the southern tip of Chacala, a fishing village about two hours north of Puerto Vallarta. It has 43 rooms in low-rise adobe style buildings. Some, high up the hillside boast glorious ocean views, while others (with fewer stairs to navigate) are surrounded by lush tropical gardens and stone patios. All are timeless Mexican-style with tile floors, stone walls, warm-coloured fabrics, and wooden furniture. Rustic but very comfortable.
The dining and lounge areas are open to the soft, salty breezes; hummingbirds flit in and out feeding on the bougainvillea and hibiscus; a large swimming pool meanders among rock boulders and, at the beachfront, a thatched palapa is strung with hammocks, ideal for watching the sunset. With no televisions, sound systems, or noisy swim-up bars, the only sound is the ceaseless surf pounding onto the shore.
La Selva yoga studio
But beyond the relaxing charm of the hotel something deeper is brewing at Mar de Jade – the beating heart of this rural community. Profits from the hotel are put towards apprentice programs where locals learn skills like farming, carpentry, cooking and sewing.
A vast organic farm, El Rancho, provides not only employment, but also vegetables, herbs, and fruit for the hotel, as well as chicken and eggs. In the new industrial kitchen young people learn to pickle, can, and preserve the harvested food. All the wooden furniture at the hotel is built, with donated machines, in a workshop for apprentices.
On the day I visited, women were working on sewing machines in a large light-filled room, making all the hotel uniforms, cushion covers, blankets, and bedding. It's a circular economy with one woman at the heart of it all.
Her name is Laura del Valle and she is the energetic Mexican/American owner who bought the land in the early 80s as a newly graduated medical doctor, and set out to make a difference in the life of this rural community.
Living in a mud adobe hut on the beach she started a non-profit medical clinic and began seeing patients. Between 1985 and 2012 her clinic served 14,000 families and during this time, her dream of a Zen-like seaside retreat began to blossom.
Garden room
Laura del Valle is small but mighty with sparkling eyes and a ready laugh that punctuates the end of her sentences. "When I came here it was just jungle and beach," she explained over breakfast one morning, "and my first goal was to help the rural people, many of whom were living in poverty. I invited doctors to come and volunteer at the clinic and they told others and soon, we needed to have rooms for people and then, it just grew. I never expected to be running a resort."
Besides being a medical doctor, del Valle is a lifelong Zen Buddhist. As the years went by, she began attracting yoga and meditation groups from California where she lives part-time. To accommodate these groups, meeting rooms were added, and then came luxuries like swimming pools, air conditioning, and hot tubs.
The organic farm was started in 2008 and once it began producing, the hotel kitchen was expanded and the meals became more plentiful and delicious. The proud del Valle told me that one of her guests was so interested in the organic farm, she left her job in the U.S. and moved here to manage it. Most of her staff have been with her for years, appreciative of the chance to be part of this collaborative adventure.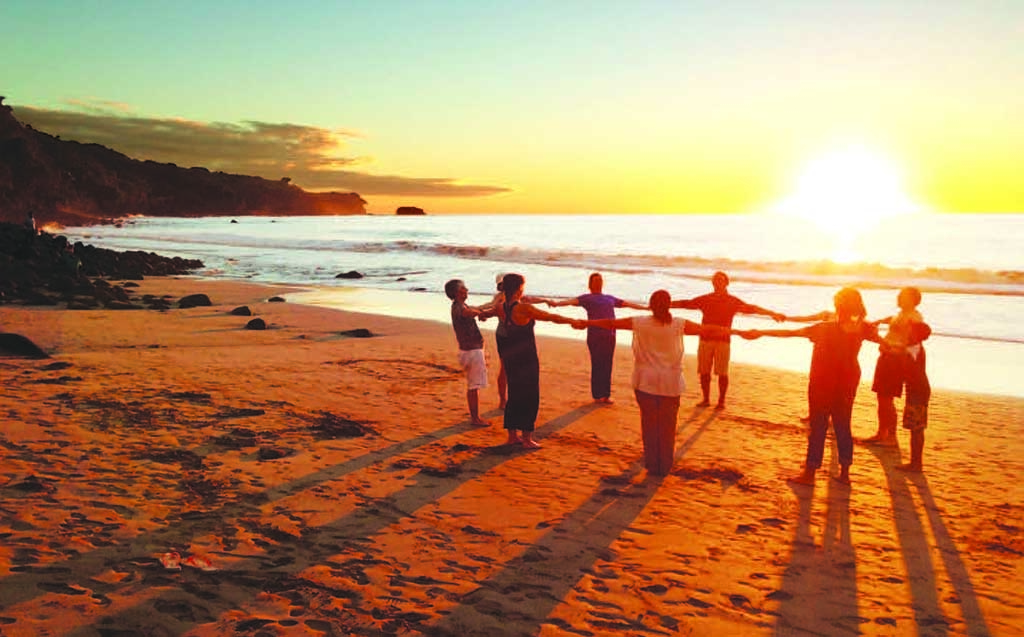 Sunset yoga on the beach
Another initiative is El Jardin, the Montessori/Waldorf school that opened in the village 12 years ago when del Valle's grandson was school age. Her daughter Angelica and son-in-law Jorge have two children and have taken over much of the operation,
including the school. It sits high on a hill with views of the sea and a large shaded courtyard where some of the children were gathered at tables eating a hot meal when I arrived midday. "This may be their only meal of the day," explained Adriana, the English teacher who showed me around. "We have 80 children from kindergarten to eighth grade.
The school started with just one small Montessori classroom and every year we added another grade." Without this school the children of Chacala could easily become part of a problem del Valle calls NoNa "… the young people here either go north for work or get into narcotics."
Much of my week at Mar de Jade was spent in admiration of Laura del Valle and what she has achieved. Every day I awoke at dawn (prompted by the crowing rooster) and strolled down to the breakfast bar where herbal teas and pots of excellent coffee were set out for early risers, along with homemade muffins and bread, fresh from the oven. I could sit with my coffee and watch the sea roll in, before heading off to yoga, which took place in an airy room presided over by a large bronze Buddha. Hikes were also offered and one could rent paddle boards and kayaks at the town beach. Massages and other spa treatments were relaxing options.
Mar de Jade spa
Another delight at Mar de Jade is the food. Wholesome meals are served buffet style and include salads and fresh fruits as well as a hot buffet with Mexican dishes – shrimp fajitas, huevos rancheros, chicken tortillas, and always, fish from the sea. There's a dessert and coffee station with cappuccinos, homemade ice cream, and an array of baked goods. And there's a terrific palapa-style bar with a vast menu of tropical drinks and a good wine list. After evening yoga, from 4.30 to 6, we headed straight to the bar where Augustine whipped up margaritas and piña coladas.
It was restorative to spend a week doing yoga, walking the beach, swimming in the sea, and meeting someone like Laura del Valle who believes that "people come to Mar de Jade to find the better part of themselves." She's like the guardian angel of this little pocket of Mexico; training and employing the adults, feeding and educating the children, caring for the sick, and even fending off the bad guys – the greedy developers who threaten her enterprise in this piece of paradise.
Written by Judy Ross for Cruise & Travel Lifestyles
Featured
Popular Articles & Videos
Cruise Styles