The brand new Scenic Eclipse, first of the line's Discovery Yachts has a distinctive look with her long hull and "wedding cake" structure – and, rather like Scenic's river ships, the décor is ultra-modern, contemporary and, in certain areas, somewhat monochromatic. There are also elegant, stylish spaces with lots of colour, and a number of restaurants and lounges that really shine, with a beautiful vibe and a pretty colour palette.
These venues help elevate a ship that offers that modern, sleek, darker look in some areas with almost black/charcoal carpeting and many brown and black shades and fabrics – such as in the ultra-modern Koko's Asian fusion restaurant.
Dame Helen Mirren (left) at the christening ceremony for Scenic Eclipse.
Overall the Eclipse has a contemporary vibe, with chrome in many areas, a high-tech sensibility and some truly fabulous art providing necessary punches of bold colour and glamour. The fabrics and the leathers chosen are high quality, as are the fixtures and fittings, and it is clear no expense has been spared.
A favourite space is the stunning, jewel-box Lumière restaurant accommodating just over 30 patrons each night for dinner. It's exquisitely designed with a lovely Champagne Bar created out of rose quartz crystal. Reservations are required and founder Glen Moroney says it's packed every night. Each guest can dine at least once per cruise (more often on longer voyages, space permitting) and, as with the rest of the yacht's restaurants, there are no additional charges.
Another delightful spot is the Azure Bar and Café which offers early-risers coffee, then takes guests through the day with light bites, tapas, snacks and a variety of beverages. It's a charming, bright and attractive venue for casual fare and carries the pretty colour theme right through to the outside deck.
The main lounge also impresses with its calming blue/grey colour scheme and a truly stunning 100-bottle whisky bar. There is expansive seating here with a lovely high ceiling creating a welcoming space which will be the hub for drinks, entertainment and more.
Main lounge
The main restaurant is Elements, which has a focus on Italian, steak and seafood and there's no need to reserve. It's also somewhat minimalist in décor but features lighter beige tones and a sexy black marble bar at its entrance where wine and cheese tastings are offered each evening. With 100 cheeses available, I suspect this will be a popular stopping off point, pre- or post-dinner. There is also a separate Chef's Table within Elements reserved for guests booking the most premium suites or by invitation.
The myriad dining options also include a private Teppanyaki room within Koko's, as well as a Sushi bar, the casual Yacht Club with its poolside grill, bar and buffet and 24-hour room service. The Epicure dedicated cooking class facility is another culinary feature.
The yacht carries 228 guests in 114 suites, all of which are spacious and well-appointed, each with a small sitting area and verandah. In polar regions, the capacity drops to 200 and the regular crew complement is 178 which in polar regions, increases to 192. The tonnage is just over 17500 GRT which means the space ratio per guest is high – certainly a sign of luxury – and there are six butlers on the ship, each taking care of 15 suites.
There are several pools and terraces with sun beds, an expansive gym and spa, a really fabulous yoga and Pilates studio, as well as a relaxation area with thermal lounges, steam rooms and saunas.
One of the first of a new breed of truly luxurious expedition yachts, Scenic Eclipse was purpose-built to impressive luxury standards. This expanding segment has many ships being built now with a Polar 6-1A super ice-class hull. Scenic has clearly spared no expense on the yacht, with environmentally sustainable systems, GPS dynamic positioning, an advanced propulsion system and other tech advances including custom-built stabilizers 50 percent larger than those found on many ships. With any luck, these enhancements will make that cruise to Antarctica and the crossing of the infamous Drake Passage more like the Drake lake and not a Drake shake moment.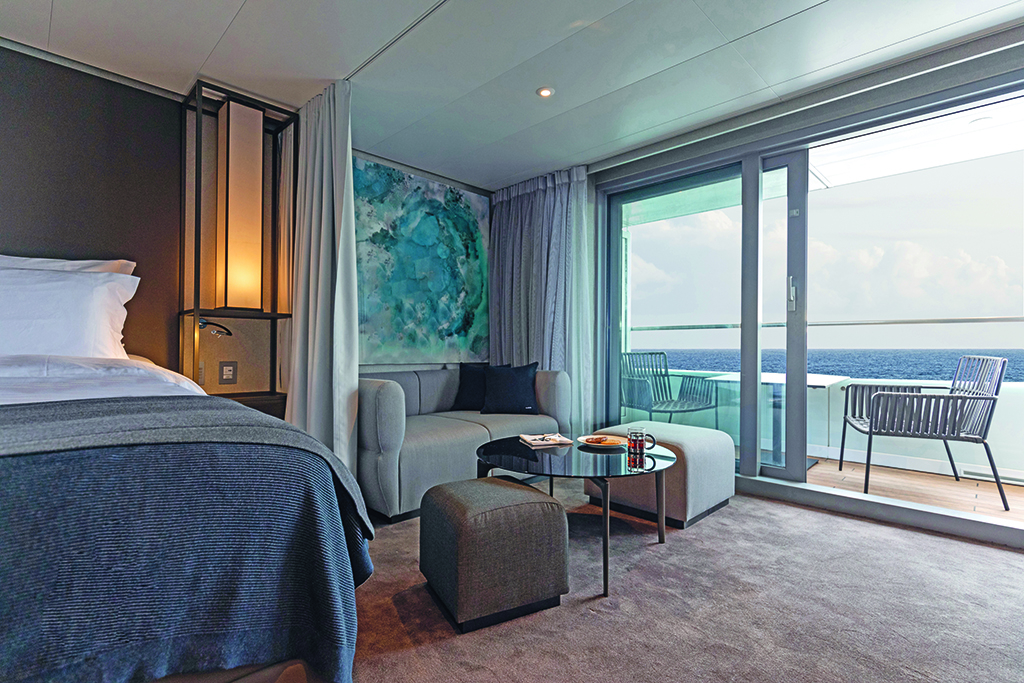 Deluxe Verandah Suite
Eclipse boasts a pair of helicopters and a submarine. These impressive "toys" will appeal to travellers who long to take a helicopter ride over northern tundra or southern glaciers, or dive below the water (to a depth of 984 feet) in the Scenic Neptune six-seater submarine. It's $475 per person for a 20-minute ride and $925 for 40 minutes in a helicopter, and $250 for 20 minutes or $475 for 40 minutes in the sub – all pricing in U.S. dollars. Guests are taken out on a Zodiac to board the sub via a platform on its roof. Feeling adventurous? The Eclipse also offers tandem kayaks, and, depending on the yacht's locale, snowshoes or snorkels.
Scenic has an onboard Discovery Team and a fleet of Zodiacs and the focus is very much on providing guests with a superior and enriching vacation – with "six-star service and amenities" – wherever in the world the yacht may sail.
Originally written for Cruise & Travel Lifestyles (Fall/Winter 2019). All photos courtesy of Scenic.
Featured
Popular Articles & Videos
Cruise Styles