I wouldn't call it panic…rather, intense apprehension. I had only been scuba diving once before and wasn't totally confident about my abilities or, frankly, convinced that anything without gills belonged underwater. But I was in Bermuda, a watery Xanadu situated 1,000 kilometres off the coast of North Carolina and was determined to swim with the fishes. Wait...I mean next to the fishes!
First up on the list for my long weekend getaway to Bermuda was a two-tank dive with Dive Bermuda, located at the Fairmont Southampton hotel. In my limited experience, a dive instructor should have a disposition similar to a good doctor or favorite teacher; calm, cool and self -assured. Thank goodness, our dive instructor, Chris Haile, had just that. After giving our group of eight a pre-dive briefing and getting us outfitted, Chris took us to the first dive site. By the time I got in the water, I was totally at ease.
As it turned out there weren't multitudes of colorful fish to swim next to. There were some, certainly, but that's not what made this dive unique. Incredible underwater grottos and arches that we swam through made this stop magical and other-worldly. Our second dive to the Mary Celestia, a Civil War blockade runner, which sank in 1864, was the highlight. As we descended some eighteen metres down to the wreck, all of my initial apprehensions evaporated but I was frustrated only to be able to express my excitement through frantic hand gestures.The breathing apparatus was an albatross for an effusive person like me!
This 152-year old wreck still had an intact steam wheel attached to its side, covered in coral. Though we weren't allowed to touch it, seeing a piece of history, largely intact and not under the measured lights of a museum, was absolutely amazing.
There are actually eighteen wrecks from the period between 1505 and 1684 in the waters surrounding the island, but in addition to being a haven for scuba divers, I discovered that Bermuda is the perfect spot for those who love aqueous activities of all shapes and sizes, whether it be a master class in sailing or a laid-back beach holiday.
After conquering the world beneath the waves, it was time to ride on top of the waves, on a one-hour jet ski tour. At only 35 kilometres long and roughly three kilometres at its widest point, you can cover a lot of Bermuda in a short time.As we left the Southampton Parish dock, our young guide challenged us to keep with him, zooming out of the marina at a speed I wasn't sure I could hit. His bold challenge didn't last long; about one minute into our tour he fell off his jet ski, losing sunglasses and one shoe. While he felt sheepish, I was delighted that we ended up touring around the west end of the island at a speed more conducive to site seeing, looking for sea turtles and zipping in and out of coves and inlets. The shimmering aqua green and sapphire blue water ensured a great photo opportunity from every angle. No camera filter required!
Halfway through the tour we made a stop at the wreck of The Vixen. Its rusted bow poking through the surface of water is the un-official northern tip of the Bermuda Triangle, a 5,000 square kilometre swath of ocean stretching down to Florida and Puerto Rico. While the alleged mysterious powers of the Triangle are often blamed by the outside world for the large number of shipwrecks in the area, most Bermudians give credit to the shallowness of the reefs surrounding the island. Spencer Wood a local musician and tour guide told me he doesn't put too much stock in the legend of the Triangle but admits, "every time I do the laundry and lose a sock, I blame the Triangle."
On the Friday night of my Bermuda weekend, I went on an Uber Vida sunset cruise. Departing from the waterfront in the capital city of Hamilton, the cruises are complimentary and incredibly popular among folks ready to unwind after the work week. I showed up to the first scheduled cruise of the evening with only a few minutes to spare and had to come back later for the next sailing as they fill quickly and reservations are not accepted. It was worth the wait. The views were gorgeous and I loved chatting up the locals and expats over a few cocktails.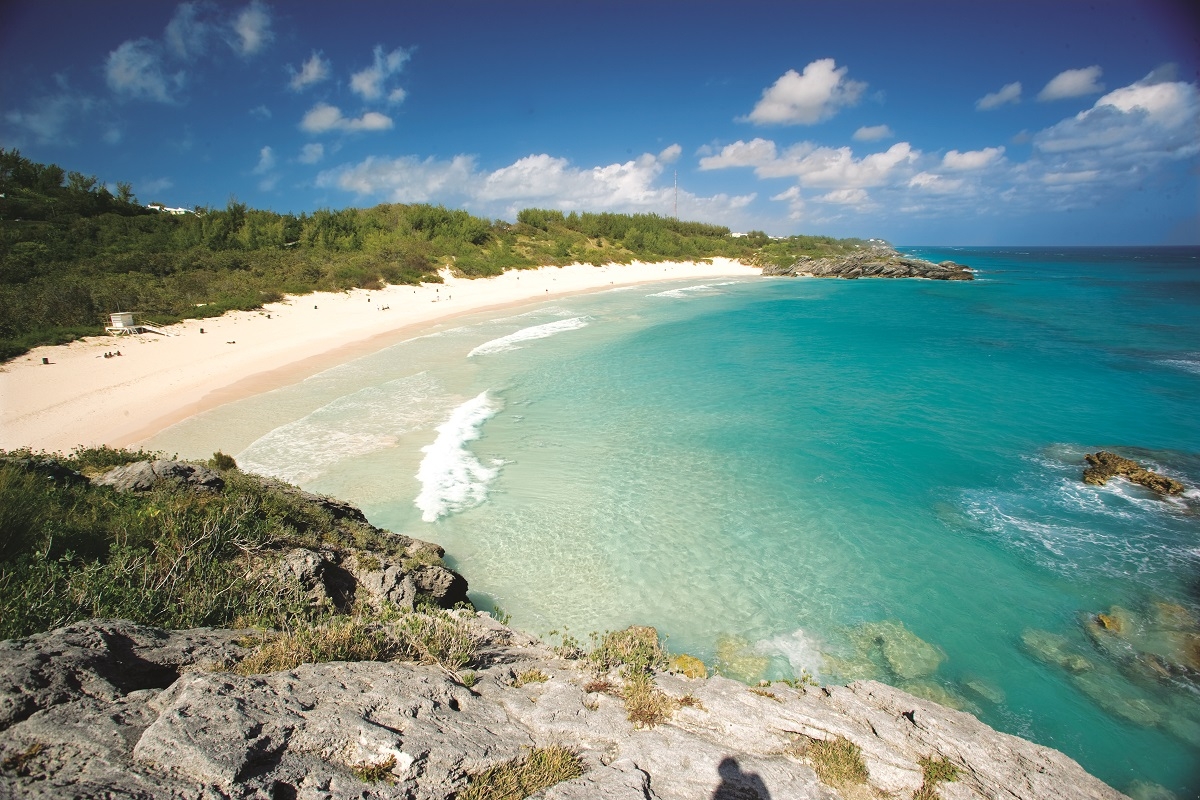 Bermuda's beaches are some of the most stunning I have ever seen. Born of volcanic activity, the beautiful fine sand beaches are surrounded by stunning rock formations. My uncritical eye couldn't quite see the pink hue that the sand is famous for but I'll take a pristine beach any day, regardless of color and Horseshoe Bay, ranked by TripAdvisor as one of the world's best beaches, was just a short hike from our hotel. One would think accolades like that would draw huge crowds but in fact, after a quick walk down the beach along with a few scrambles up some rocky promontories, there wasn't a soul in sight. Having the sparkling water and jagged rock formations all to ourselves was absolute perfection and made this unplanned walk a memorable part of the trip.
On our last night, we drove to the east end of the island for dinner in St. George's, a charming UNESCO World Heritage historic town. We meandered along winding roads, surrounded by impeccably manicured lawns and pastel colored homes with tiered limestone roofs - an architectural style distinctive to this former British colony. While it did dawn on me that land lubbers could enjoy Bermuda, my overwhelming opinion - as I sipped my Dark & Stormy, Bermuda's rum and ginger beer cocktail, savored my seafood chowder, and gazed over the sparkling harbor - was that no one can ever visit Bermuda without falling in love with the power and beauty of her waters.
Written by Loren Christie

Photo Credit: Bermuda Tourism

Featured
Popular Articles & Videos
Cruise Styles